What you get:
The Joy Of Email System containing....

The Joy Of Email Main Book
This is a No-Filler 129 page guide which takes you by the hand, and teaches you everything you need to understand about writing persuasive, money-making emails that engage your list
The Joy Of Email Subject Line Madness eBook:
Everything you need to know about writing attention grabbing, contrarian, curiosity driven headlines that stand out inside your subscribers cluttered inbox
The Email Mini Product Launch Guide:
Inside this guide I will show you how to set up a product launch set of emails that guarantee you make as many sales as possible
The Little Black Book Of Email Ideas:
Inside this short, 50 page document I list out 27 tactics and strategies you can use in your business, right now, today. Each individual idea can be worth thousands to your bottom line
The Joy Of Email Book Of Resources:
Inside this guide I list out ALL of my favourite places around the web to get inspiration on almost every topic you can think of. You will never run out of ideas and topics for emails ever again
The Joy Of Email Book Of Incredible Phrases, Metaphors, Similes, Power Words, Funny, and Controversial Statements:
This is the secret sauce when it comes to spicing up my emails so they aren't boring. You will be blown away by this.
The Joy Of Email 'Steal My Templates' Collection:
I'm giving you 50 of my own best emails which you can use as your own. Use them inside your autoresponder sequences to make sales, build credibility and authority, and bond with your subscribers

PLUS...
The Opt-In Power Pack
EmailDyno software (conversion voodoo some call it...)
3 Weeks of Email Coaching - so that you can ask questions, get clarity on the subject and give me vital feedback so I can keep improving and expanding the course.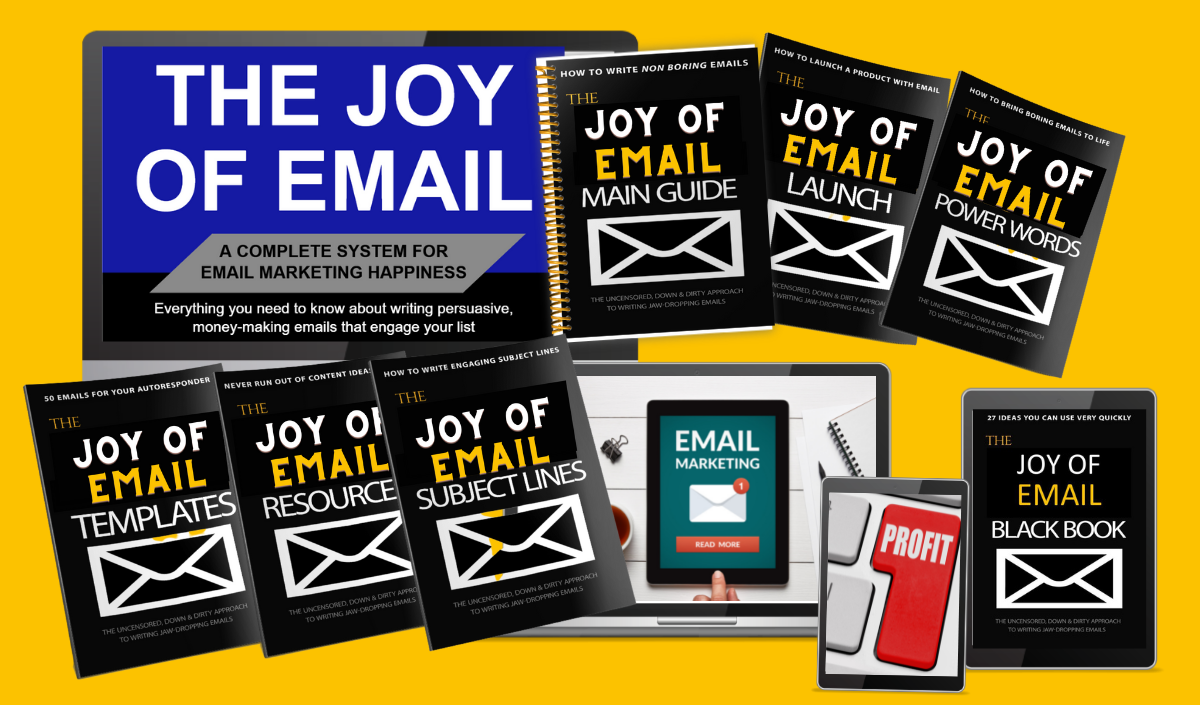 What your outcome will be:
By taking this course you will quickly develop a deeper understanding of modern email marketing that works, and ultimately get results from your own email list.
There are several documents that came with this training. They all serve a specific purpose:
- Some will give you ways to build your lists and tell you the most powerful types of words to use.
- Others will show you how to launch products to your lists.
- And the bonus "Blackbook" will give you short, to the point ideas, techniques, tips and tricks that you can dive straight into and put to use in your business. I should actually call this the "Goldbook" as the information inside is worth a fortune.
- Then there is the 50 email template document that you can copy / steal / model and use as your own. There are some great emails here; ones that will help you build authority quickly. Use them as you see fit, but best not to copy them verbatim because you are not me. Study them and use the teaching inside each email, sparingly. You may want to tone them down (or up!) depending on your market.
- The main guide contains all the foundational and fundamentals of what lies at the core of writing persuasive, money-dripping emails that build lists of loyal fans. Use all the other guides in conjunction with this one and nothing will stop you.
And other people think it's helpful too...
Why email is so important:
From all the marketing campaigns I have run across many different media and for many businesses, email is still the best way to generate sales.
Yes it's been around since the dawn of the internet, but it's night and day ahead of any other medium for me due to its scalability, effectiveness and as a way to build mass relationships on a personal level.
Email offers the ultimate leverage.
Send to 100 people or send to 100,000 people and you don't have to do anything extra or different. It really is the perfect sales machine.
It works just as well whether you're a creator, an expert or an e-commerce physical product seller.
I typically send about 40 million emails a year and in my career have been responsible for advertising spends of over £100 million / $130 million for myself and clients so I think have a good perspective on this.
If you held a gun to my head and left me with just one marketing asset I'd say "leave me the email list" every day!
Quite simply email should be the marketing foundation of every business - that's how important it is.
You don't own or ultimately control your social media channels but you do own and control your email list...
It's called the Joy Of Email because email marketing is (or should be!) a joy.
When done properly it's like writing to a friend and giving genuine help and advice plus various amounts of entertainment and fun while also recommending useful products and services.
So join me in celebrating the Joy Of Email with my added value gift to you...
Pick it up and get started now when you click the button below (secure checkout with plugnpaid and paypal):
Just $97 for this whole package.
(Real value of $593.75)
No Worry Purchase. This Product Comes With A 30 Day Money Back Guarantee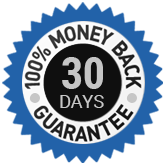 This offer is limited and will disappear very soon when the main sales pages are complete so don't miss out on this one-off, high value package.
Click below to get started:
Any Questions? Please use the contact form at: https://fraserneilson.com/#contact (preferred) or else email me on: Help@Publishingtips.com and i'll get back to you as soon as I can - maximum of 12 hours but usually much sooner.